Zipmex X Auntys Haus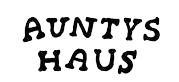 Zipmex X Auntys Haus Limited Edition Auntys Zipmex Overprint Bucket Hat
You can specify the quantity at checkout.
Don't miss out on your chance to become the coolest kid on the block.
Sign up now with the code AUNTYZIP and pass KYC to get 200 THB worth of ZMT!
Nationwide delivery included!
Inspired by founder, Motley Flower's childhood being brought up by his colorful and fun aunties, the Auntys Haus brand features ready-to-wear pieces with relatable and humorous aesthetics.
Auntys Haus is the first and only Thai streetwear brand listed on HYPEBEAST.
Auntys Zipmex Overprint Bucket Hat
Free size, reversible bucket hat
What do you get when you mix crypto with streetwear? Aunty Zip! Channel her adventurous and fun-loving spirit with this fun t-shirt of Aunty Zip doing yoga with ZMT.
Aunty Zip Collection
The Aunty Zip persona was inspired by that one savvy aunt everyone loves to love.
Outdoors-y, adventurous, yoga-loving and extremely fit are just some of the words used to describe her.
Aunty Zip also trades crypto daily, bringing in the best of both worlds!
Stay safe in the sun with Aunty Zip in this reversible bucket hat!